Emad Younis is a Staff Technical Marketing Architect working in the Cloud Platform Business Unit, part of the R&D organization at VMware. His current focuses are the vCenter Server Appliance, vCenter Server Migrations, and VMware Cloud on AWS. He's written tons of blogs, whitepapers and eBooks for VMware, including the eBook that this blog is about. For those of us who are migrating from older vSphere versions (like 5.5,  which is end of support in September) to vSphere 6.5, this eBook is a must have resource.
This free eBook was written to help guide VMware customers through every phase of the vSphere 6.5 upgrade process. It's broken down into three phases:
Phase 1: Pre-upgrade – The work that you need to do before starting an upgrade.
Phase 2: Upgrade – Outlining the steps of the upgrade process and execution.
Phase 3: Post-Upgrade – Validating with business owners that everything went according to plan.
Each phase outlines minute details things that you should consider during the upgrade process, and also links to resources that will help make your upgrade a successful one. Included in the eBook are two common upgrade scenarios to help guide you through the upgrade process from end to end:
vSphere 5.5 to vSphere 6.5
vSphere 6.0 to vSphere 6.5 Update 1
Both scenarios include requirements and decisions that were used to determine the upgrade path. The intent of this eBook is to help familiarize VMware customers with the vSphere upgrade process and provide knowledge that engineers like us can apply to our upgrade process. The eBook also contains a reference section loaded with important links to documents, knowledge base articles, tools, guides, and more. Download it here: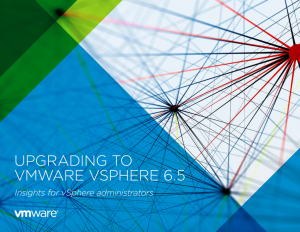 Details
Accolades
Latest Posts
Scott is an experienced professional and recognized leader specializing in the design and implementation of enterprise virtualization, enterprise storage, server infrastructures and operations. A self-starter able to work both independently and in a team-oriented environment, Scott has a proven ability to create and automate solutions to improve productivity, reliability and performance.
Throughout his professional career, Scott has proven successes implementing technology and service improvement initiatives and has a demonstrated ability to think strategically about business, create technical definition around objectives in complex situations, develop solution strategies, motivate and mobilize resources, and deliver end-to-end technology solutions.
Scott has achieved multiple industry recognized certifications in virtualization, networking, cloud, storage, converged infrastructure, hyperconverged infrastructure and other technologies, and is honored to be a VMware vExpert in 2018-2022, and vExpert EUC 2020-2022.


Achievements
VMware vExpert EUC 2020-2022
VMware vExpert 2022
VMware vExpert 2021
VMware vExpert 2020
VMware vExpert 2019
VMware vExpert 2018
Double VCP – Data Center Virtualization & Desktop Mobility
Double VCP – Data Center Virtualization & Cloud Management
Double VCP – Data Center Virtualization & Network Virtualization
Double VCP – Network Virtualization & Desktop Mobility
Double VCP – Network Virtualization & Cloud Management
Double VCP – Cloud Management & Desktop Mobility
Dell Technologies Proven Professional Exam Developer – 2021
Certifications
VMware Certified Associate – Digital Business Transformation 2020
VMware Certified Professional – Desktop and Mobility 2020
VMware Certified Professional – Data Center Virtualization 2020
VMware Certified Professional 6 – Desktop and Mobility
VMware Certified Professional 6 – Cloud Management and Automation
VMware Certified Professional 6 – Network Virtualization
VMware Certified Professional 6 – Data Center Virtualization
VMware vSphere 6 Foundations
Dell Technologies Cloud Platform Administrator 2020
Dell Technologies Virtual Desktop Infrastructure 2019
Dell Technologies Specialist – Infrastructure Security Version 1.0
Dell Technologies Specialist – Systems Administrator, VxRail Appliance Version 2.0
Dell Technologies Specialist – Systems Administrator, VxRail Appliance Version 1.0
Dell Technologies Associate – Converged Systems and Hybrid Cloud Version 2.0
Dell Technologies and VMware Co-Skilled Associate – Converged Systems and Hybrid Cloud
IBM Enterprise Design Thinking Practitioner
IBM Enterprise Design Thinking Co-Creator
SolarWinds Certified Professional