For those of us who are new to Microsoft Azure or in the beginning stages of planning a cloud migration, Microsoft is now giving away the Azure Strategy and Implementation Guide for IT Organizations eBook for free! Cloud architects often hear the same questions from different customers who are starting to plan out their cloud implementation process. That's what motivated at the good people at Microsoft to write the Azure Strategy and Implementation Guide eBook, and provide their guidance in the form of a blueprint that customers like us can follow to help form our cloud strategy.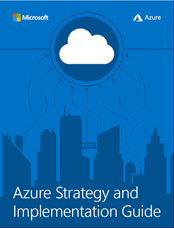 Whether you are starting with Azure or doing more general research regarding how IT teams navigate cloud implementation, this guide offers a balance of broadly applicable advice and Azure specifics for you to consider. Here is an overview of what is covered:

Chapter 1: Governance – This chapter covers the starting points, from the aspirational "digital transformation" to the important tactical steps of administration and resource naming conventions. Get an overview of topics such as envisioning, to cloud readiness, administration, and security standards and policy.
Chapter 2: Architecture – This section takes a longer look at security, touches on cloud design patterns, and provides several visual representations to help you understand network design.
Chapter 3: Application development and operations – Here, we cover backup and disaster recovery, as well as application development from an IT operations and management perspective. You'll learn about the culture of DevOps as well as monitoring and Infrastructure as Code (IaC).
Chapter 4: Service management – No, IT does not become obsolete when an organization moves to the cloud! This chapter focuses on service management and optimization, along with the day-to-day details of how to stay informed of the Azure roadmap, updates, and where to go when you need support.
The Azure Strategy and Implementation Guide targets enterprise architects, project managers of cloud roll-out initiatives, solution architects, and IT team leads. Get your copy of the free e-book today.
Details
Accolades
Latest Posts
Scott is an experienced professional and recognized leader specializing in the design and implementation of enterprise virtualization, enterprise storage, server infrastructures and operations. A self-starter able to work both independently and in a team-oriented environment, Scott has a proven ability to create and automate solutions to improve productivity, reliability and performance.
Throughout his professional career, Scott has proven successes implementing technology and service improvement initiatives and has a demonstrated ability to think strategically about business, create technical definition around objectives in complex situations, develop solution strategies, motivate and mobilize resources, and deliver end-to-end technology solutions.
Scott has achieved multiple industry recognized certifications in virtualization, networking, cloud, storage, converged infrastructure, hyperconverged infrastructure and other technologies, and is honored to be a VMware vExpert in 2018-2022, and vExpert EUC 2020-2022.


Achievements
VMware vExpert EUC 2020-2022
VMware vExpert 2022
VMware vExpert 2021
VMware vExpert 2020
VMware vExpert 2019
VMware vExpert 2018
Double VCP – Data Center Virtualization & Desktop Mobility
Double VCP – Data Center Virtualization & Cloud Management
Double VCP – Data Center Virtualization & Network Virtualization
Double VCP – Network Virtualization & Desktop Mobility
Double VCP – Network Virtualization & Cloud Management
Double VCP – Cloud Management & Desktop Mobility
Dell Technologies Proven Professional Exam Developer – 2021
Certifications
VMware Certified Associate – Digital Business Transformation 2020
VMware Certified Professional – Desktop and Mobility 2020
VMware Certified Professional – Data Center Virtualization 2020
VMware Certified Professional 6 – Desktop and Mobility
VMware Certified Professional 6 – Cloud Management and Automation
VMware Certified Professional 6 – Network Virtualization
VMware Certified Professional 6 – Data Center Virtualization
VMware vSphere 6 Foundations
Dell Technologies Cloud Platform Administrator 2020
Dell Technologies Virtual Desktop Infrastructure 2019
Dell Technologies Specialist – Infrastructure Security Version 1.0
Dell Technologies Specialist – Systems Administrator, VxRail Appliance Version 2.0
Dell Technologies Specialist – Systems Administrator, VxRail Appliance Version 1.0
Dell Technologies Associate – Converged Systems and Hybrid Cloud Version 2.0
Dell Technologies and VMware Co-Skilled Associate – Converged Systems and Hybrid Cloud
IBM Enterprise Design Thinking Practitioner
IBM Enterprise Design Thinking Co-Creator
SolarWinds Certified Professional